How to successfully Install/Reinstall MIMS for Android
To successfully install or reinstall the MIMS for Android app please follow this procedure.
Good Wi-Fi is crucial
The medicines database is large at over 440MB which requires a good Wi-Fi connection to download successfully.
As a benchmark for you, it takes one minute to download it here at MIMS over Wi-Fi, approx. 4 – 5 minutes at home over Wi-Fi, and only 1 – 2 minutes over Telstra 4G mobile data.
If your work Wi-Fi connection is slow and unreliable then you may have better Wi-Fi at home that you could use. If you have a large 4G mobile data plan then 4G is very fast.
The procedure involves App installation, account registration and downloading the medicines database.  The medicines database is a large file (over 400mb) hence we recommend you connect to an excellent Wi-Fi.
Installing the App
Open Google Play Store and search for MIMS for Android then tap on Install.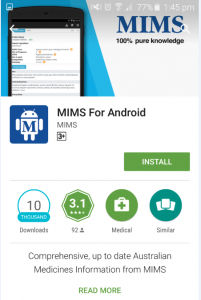 2. Tap on Accept to proceed with the App installation.
3. Tap Open to run the App.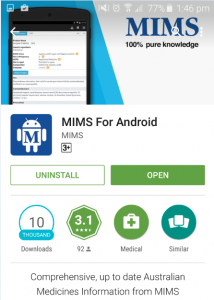 4. If you are an Enterprise user then simply enter your Token in the bottom part then press "Sign in".  If you are an individual user then select the "Register Here". Complete the form then tap on "Register".
5. Press "Agree" to accept the licence agreement then tap "Not now" to proceed with the trial.  Note: this will take several minutes depending on the speed of your Wi-Fi connection.  It is important the the device is not used or autolocks while the database is downloading. You can temporarily extend autolock by going to the phone Settings –>Lock screen and security–>Secure lock settings–>Lock automatically and set autolock to 30 minutes.  Alternatively you can lightly touch the screen while it is downloading.
You can then change the autolock to your preferred setting after the download is complete.
You have successfully installed the iMIMS app. To start using it press the menu on the top right corner and then select "Search".  
Additional Notes:  To ensure that MIMS for Android app only downloads data over Wi-Fi – please go to settings within the MIMS for Android app and switch "Only download updates when on Wi-Fi" to ON.  If you have turned off your "Autolock" function – please turn this back on now.  The database download can take several minutes and it is important that the phone screen is not touched and the phone does not autolock (sleep) during the download process.