Updating eMIMS Classic with Monthly Internet Updates
Internet updates are provided every month in between disk updates.
Subscribers who have registered their email addresses with us can be notified of the availability of a Downloadable Update when it is released. For standalone mode installations, you can also use eMIMS to check if an update is available.
How to find and apply a downloadable update on eMIMS standalone mode: Step by step
If you are running eMIMS as a standalone mode:

Select Check for Updates from the Help menu.  This opens up the eMIMS Update utility program.  To use this program, you need an active internet connection.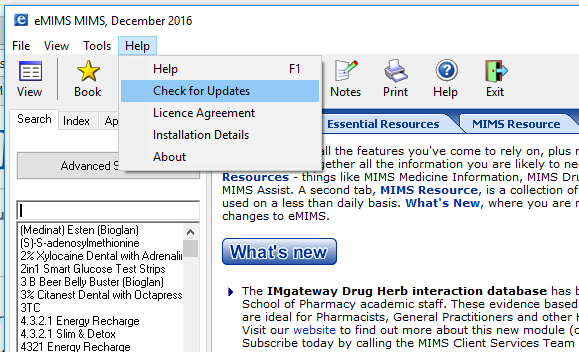 As shown above, you can see a summary of the components that are being monitored by the program.  A tick means that the listed version is currently installed.


Click on Check Updates. This will look at the MIMS website and check to see if any updates are available.


If they are, you can see them listed (below).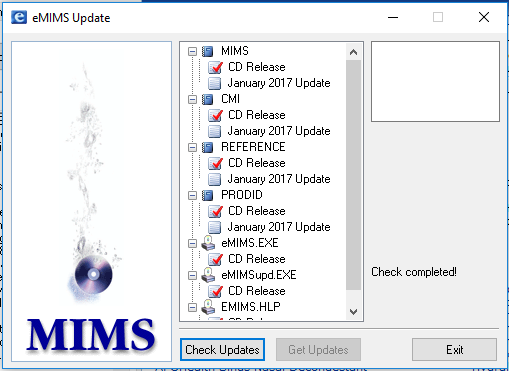 Select on the available monthly update then click on the "Get Updates" button.  This will direct your browser to the MIMS Download Page for the available monthly updates.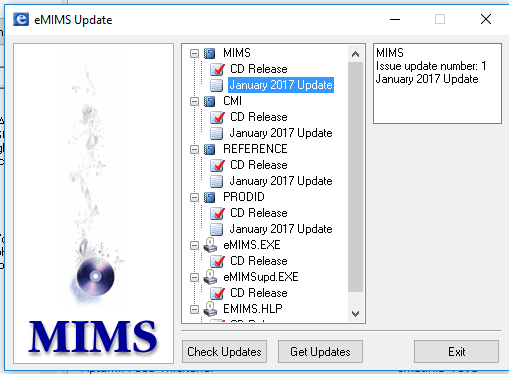 Close eMIMS before continuing with the update.  Also please read through the full instructions provided in the website.  Click on the green button to download the file and proceed to install/run to apply the monthly updates.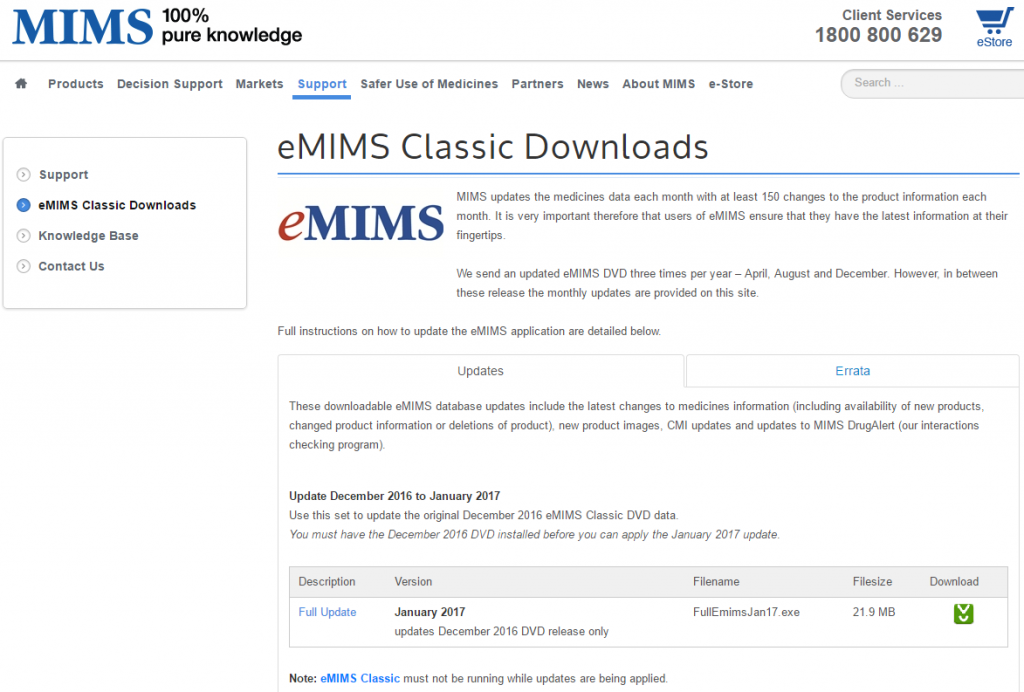 How to apply a downloadable update on eMIMS network mode: Step by step

 This procedure applies if you have configured your Windows computers to run eMIMS Classic on network mode.  Using your eMIMS server or from one of your eMIMS client computers, click on eMIMS monthly updates then download the monthly updates.  After the download has completed, close eMIMS on all workstations (clients) and run the downloaded update file.  As in all server image updates, you need to be sure that eMIMS is not being used by anyone else at the time you are applying the update.
How to verify that the update has been applied successfully

 Open eMIMS Classic.  On the upper left-most corner of the eMIMS screen, the date/version of your eMIMS will give the indication if indeed the updates went through successfully.

 For stand-alone mode:  Once you have installed the updates, selecting Check for Updates from the Help menu again will show that they have been applied.  You will also note a change to the dateline of the MIMS and CMI books to reflect the currency of the installed data.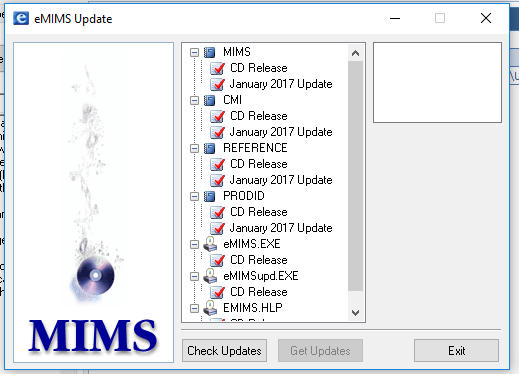 If more than one update is available, which one do I need?
In general, the updates need to be applied sequentially.  They are not normally cumulative.  This means that you need to apply them in the order that they were released.
On the eMIMS Download Page, each set is clearly labelled with the version that they will operate on.  If you try to apply an update to another version, it will fail.