Updating eMIMS Classic to the Latest Disk Issue
To update a server installation – do it on the server only.
To update a stand-alone installation – do it on each computer where eMIMS Classic is installed.
To see which data version you are running, open eMIMS and you will see the issue date at the top left of the window.If date showing is older than the current date/month, you need to update to the latest version either via a new DVD or downloaded from the Internet.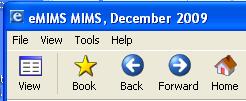 Go to http://www.mims.com.au/index.php/support/emims-downloads and download the next update file

Click 'Save' and save the file on the computer's Desktop
Once the download is finished, make sure eMIMS application is closed then double click the FullEmims.exe icon.
Click 'Run'

Installation will now run. Follow the prompts until update is completed.
To confirm update is successful, open eMIMS and the date at the top left of the screen should now show the current date/month.
You can now delete the downloaded file FullEmims.exe from your Desktop.
For further assistance, email support@mims.com.au or call us on 1800 800 629