How to install eMIMS Classic (Standalone Mode)
×
PLEASE NOTE:
This information applies to the current release of eMIMS
Classic
. For information on older issues of eMIMS
Classic
, please see the Knowledge Base.
Standalone mode
This installs eMIMS Classic on a single PC which does not need to be connected to a network.
If there are a number of PCs on your network that will be using eMIMS Classic, then the Network Server mode will be more efficient.
Updating an existing installation
If eMIMS Classic is already installed and running on your computer, it is important that you maintain the type of installation (ie Standalone or Network). If you wish to change your installation type, you must first remove the existing installation. Uninstall eMIMS prior to the latest version here
eMIMS Classic must not be running when you run the installer. Exit the eMIMS Classic program and try again if the installer detects that it is running.
Installing eMIMS Classic
Insert the eMIMS Classic DVD in the DVD drive.
Run SETUP.exe

There are other ways of running SETUP.exe. For instance, you could type dvd_driveletter:\setup.exe in the Start menu's Search box, or in the Run… dialog (this can be opened using the Windows key + R).

You may see a User Account Control dialog asking for your explicit permission to run the program. Answer "Yes" to continue installing eMIMS Classic


The installer will show you the License Agreement. You must accept the terms of the License Agreement to use eMIMS Classic.

Enter the Product registration details. The Full Name and CD Key are contained in the letter included with the DVD.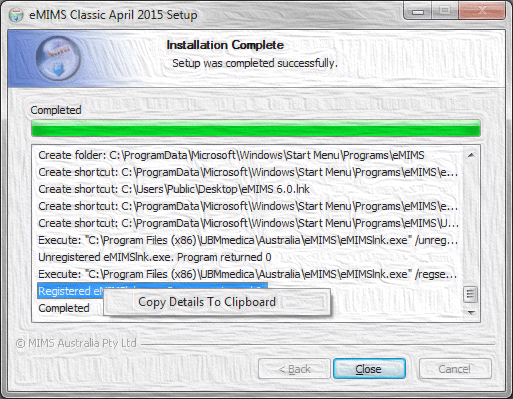 When the installation is complete, close the installer program.
To run eMIMS Classic,
If eMIMS is currently running
SETUP.exe cannot install updates to an existing eMIMS Classic installation if the program is currently running. A number of checks are made to make sure this is not the case so that the installation can proceed reliably. If a running program is detected, you can simply exit the program and continue with the installation by clicking Retry.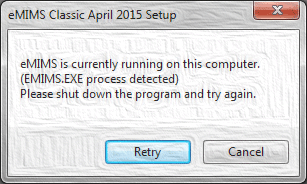 If you are using eMIMS Link from your pharmacy software, you may not be aware that the program is running.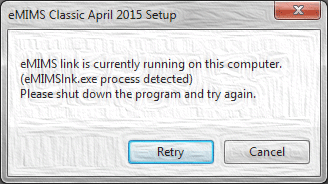 If eMIMS is installed as a client in Network Server mode
…and you try and run SETUP.exe, you will see: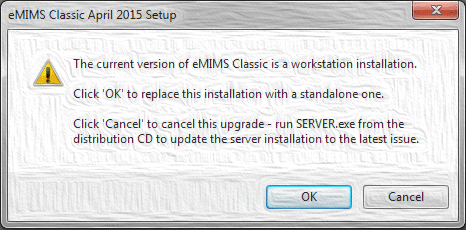 You can continue running SETUP.exe, and the client PC Network Server mode installation will be replaced by a standalone installation. This may not be what you want to do, in which case you can choose to Cancel SETUP.exe.
To update the existing Network Server installation, run SERVER.exe from the eMIMS server computer. This will update the program and data files to the current issue in the central server location.
Planned changes
The UBMmedica company name is no longer associated with MIMS Australia. However, it is very hard to alter once established in a program's installation. We will be transitioning to \MIMS\Australia\eMIMS in place of \UBMmedica\Australia\eMIMS in the near future.
System requirements
eMIMS Classic requires a computer running Windows 10, 8, 7, or Windows Vista. A standalone eMIMS installation requires approximately 950MB of hard disk space. A DVD drive is required to read the distribution disk.
The Windows support files will be installed in the Windows system directory and require 4MB of disk space.
To install eMIMS Classic, you need to have appropriate permissions to install programs on your computer (i.e. Administrator profile).
If the eMIMS data is stored on a network file server, users must have create, read and write privileges for the network directory where the data is stored.